Free Spirit Nature Camp – A unique summer day camp for children ages 4 – 14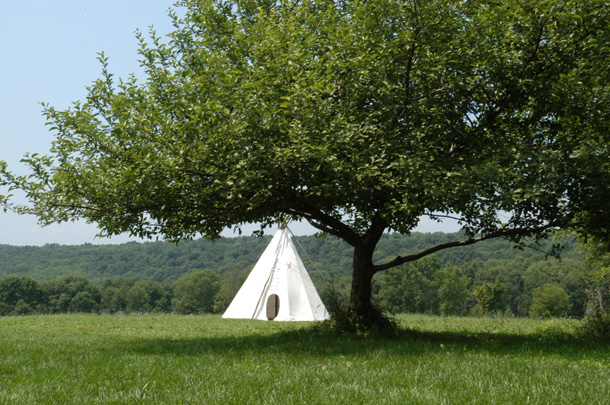 For more than 25 years, Free Spirit Nature Camp has been engaging children with outdoor skills, arts and crafts, music, nature study, folklore, green lifestyles, primitive technology, canoeing and cooperative games. The camp nurtures balanced confident, sensitive children with a deep awareness of our connection to nature. Through hands-on experiences, children ages 4 – 14 are encouraged to explore the Earth and all her treasures.
The camp's location on the working historic Kezialain farm offers the opportunity to observe and participate in gardening, farm animal care and seasonal activities that are the focus of life on the organic farm. Activities such as fire building, shelter construction, tracking techniques, plant identification, over-night camping and outdoor cooking are highlights of the camp program.
The staff includes environmental educators, certified teachers, arts and crafts specialists, musicians, actors, storytellers, counselors and counselors-in-training, many of whom were campers themselves. As one parent shared, "Free Spirit Nature Camp is such a special and magical place for my kids to have in their lives each summer."
Location: Kezialain Farm, 28 Keziah Ln., Westtown. For more information, contact Camp Director Kate Fox at Kate@freespiritnaturecamp.com or at 361-2267 (CAMP)
Philosophy
~to teach children respect for the earth, each other, and all living things
~to give young people the respect they deserve to become responsible adults
~to create a caring and unique environment
~to help children find a sense of place, and discover a sense of wonder
~to treasure and honor traditional people and cultures
~to invent new ways of coping with old problems (teaching)
~to explore and cherish the notion of interdependence
~to provide safe, supervised, outdoor space for childhood exploration
We are committed to creating a caring, vibrant, diverse, unforgettable camp experience for each child who is part of the camp community
History
Ellyce Cavanaugh founded camp in 1989, and for 12 seasons led a program that encouraged children to create an unforgettable relationship with the natural world. Her vision carries on as camp enters its 28th season!
Free Spirit Nature Camp is inspected and permitted by the Orange County Department of Health. Copies of inspections are on file at 124 Main Street, Goshen, NY 10924.
Camp is conveniently located near Westtown, Warwick, Pine Island, New Hampton, Slate Hill, Middletown, Goshen, Sussex, Highland Lakes, Minisink, Port Jervis, Greenville, Vernon.