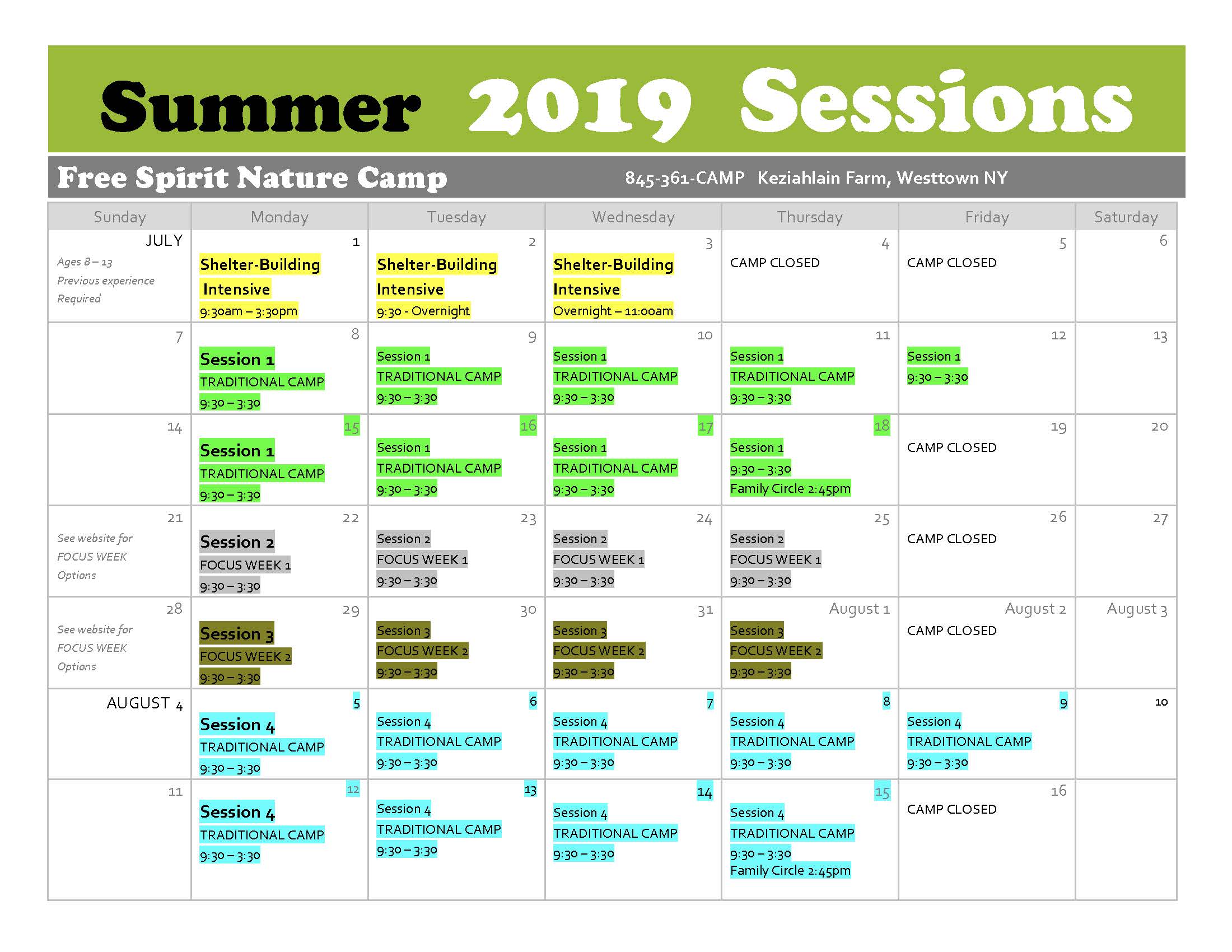 ---
2019 SEASON DATES & RATES
July 8 – 18 / 9 days (m-f, m-th) ……………………………………..$665.00
July 22 – 25 / 4 days (m-th) ……………………………………………$295.00
July 29 – August 1 / 4 Days (m-th)……………………………. $295.00
August 5 – 15 /  9 Days (m-f, m-th)…………………………….. $665.00
July 1, 2, 3, 2 1/2 days + overnight (tentative) $225.00
CAMP SESSION DESCRIPTIONS AND OPTIONS
See Below for details about the camp session options, dates, and age groups.
---
These are the 9-day Camp Sessions that are available for 2019
Session 1 July 8 – 18 (Monday – Friday, Monday – Thursday)
Session 4 August 5 – 15 (Monday – Friday, Monday – Thursday)
This summer we are offering two session of traditional Free Spirit Nature Camp – 9 Days of Hands-on outdoor activities. These are sessions 1 and 4. There will be "Free choices" every other day and a "Pathway" group in the morning. This camp will have campers grouped in home groups by age, with
Leaping Frogs, ages 4 – 5,
Running Deer, ages 6 – 7,
Laughing Coyotes, ages 8 – 10,
Trackers, ages 11 – 13
and Senior Trackers, ages 14 – 15.
---
NEW PROGRAM!
3-day Shelter-Building intensive for campers with previous Free Spirit experience.
Monday July 1 9:30am – 3:30pm
Tuesday July 2 9:30am – Wednesday July 3 11:30am.
We will spend an overnight in the shelters we have built in our camp in the woods.
Dinner & Breakfast provided.
During this program we will work with campers build debris-hut shelters. to A debris hut is a simple shelter that can be built by anyone—especially young children. It can shield you from the elements like rain and wind, help you stay in one place and make it easier for searchers to rescue you. They can be constructed without sawing, cutting or knot-tying, and still provide cover during an emergency outdoor situation. They can also just be a fun outdoor hideaway. Join us for the two and half day program, including an overnight adventure down at the bottom of the hill.  Be prepared to spend the night outdoors in a natural shelter, away from modern plumbing and electricity.
---
New This Summer – FOCUS CAMP OPTIONS
Session 2: July 22 – 25
Session 3 July 29 – Aug 1
NEW this summer are our single week (4-day) "Focus Camps", allowing campers to focus on a skill set or activity in a relaxed, supportive atmosphere with trained adults to help and teach. Each week of Focus Camp centers around a theme, and campers enroll in the themed focus week of their choice.
Sessions 2 and 3.
Please note age requirements.
Monday – Thursday
9:30am – 3:30pm
Session 2: July 22 – 25
---